Rock Climbing Basic course in the Achensee region
Learning the basic abilities for rockclimbing.
Region:
Achensee
Fitness

Technic

maximum participants:
6
Prices:
from Euro 340.- up
Included:
helmet, harness, belay device
Tour Character
Basic training for rockclimbing.
Required Skill and Fitness Level
Skill: You should be absolutely safe and comfortable during the access hike to the training area (partly steep with loose gravel), not suffering from vertigo. Basic knowledge of climbing- and belay-technics are favourable but not obligatory.
Fitness: Basic endurance for moving/"working" all day long outdoor. Access and going back between 1/2 and 1 hour. Total time up to 8 hours per day.

Meeting point: Achensee, Österreich
Tour Description
The region around the Achensee in the northeastern part of Tyrol is situated at the border of the Karwendel- and the Rofan mountains in the Northern Calcareous Alps. It offers a wide range for alpine rock sports: from perfect equipped single pitch sportclimbing routes to pure alpine tradclimbing; all this with mostly short access. To cut a long story short: you find everything you need to have the first experience of climbing in rock.
Details
Number of participants: max. 6 per guide
Services included: 4 days of training and guiding by a state approved mountain guide; guide's expenses; helmet, harness and belay can be hired.
Services excluded: accommodations in the training area (2 nights, can be booked for you), food and transfers.
Accommodation: in general in the Achensee Region.
Misc: Insurances (accident, travel cancellation) at customer's responsibility. Please refer to general terms and conditions.
Day 1
Meeting in one of the numerous climbing areas area around Achensee. Introduction there. The annoucement of the exact meeting point will take place a few days before. In case of bad weather the alternative will be one of the Indoor climbing-halls nearby.
---
Day 2 & 3
step by step wie acquire the basics of rock-climbing: equipment, knots, belaying, process of a roped party, retreat-technics, orientation, mobile belays, setup of belay stations, temporary rescue-technics. We possible lead our first routes depending on our individual climbing performance: ca. the 4th grade (UIAA).
---
---
This might interest you: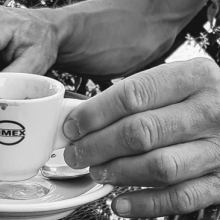 Region: Arco am Gardasee
Prices: 4 persons Euro 295.-, 3 persons Euro 385.-, 2 persons Euro 575.-